Transportation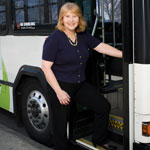 I've written more than $250K in community Development block grants, Neighborhood Action Plan grants and matching grants for sidewalks, traffic calming, bike routes, and traffic management issues. These grants provided safe, accessible and effective travel options for our residents and businesses.
I know how important it is to plan for the future, while protecting what we have now.
Transportation Groups - Meetings that I attend on a regular basis.
Neighborhood Traffic Safety Alliance
Regional Transportation Council
C-TRAN
Transportation Projects that I've worked on
18th Street Project
112th Street Safety Corridor
Buses
We must keep our core bus system financially healthy and available to everyone to enhance our livability and for those who need the bus for transportation especially for work or appointments.
C-Tran buses need to continue being frequent and reliable. It's a comfortable ride that will get you where you need to go and it services dense, transit-ready neighborhoods.
A strong transit system is important not just for individuals who don't own vehicles, or the people who use the bus system. It's good for our economy because it offers transportation for those with limited resources, reduces the demand for new roadways which are very expensive to build, and it helps individuals and communities save money which can then be used elsewhere in our local community.
Buses:
can travel in severe weather,
are flexible and can alter their routes when faced with damaged roads,
have an added security and payment factor with a driver present,
are owned and operated through our locally controlled C-Tran.
Columbia River Crossing (CRC)
We've worked over 17 years on this project, and within the last four months the project has changed tremendously. Let's encourage our leaders and our community to have serious, meaningful meetings and decide the best way to proceed with our transportation requirements, including the I-5 and I-205 corridors. With Oregon's new involvement, the City of Vancouver must stay in the room and at the table to make decisions.
My Voice
I served on the bi-state I-5 Trade and Transportation Task Force 2001-2002.
I participated and testified in meetings held by the CRC to stay current with the project direction.
I worked with Vancouver Neighborhoods to sponsor three CVTV televised community forums on the light rail issue.
I attended meetings and testified at the Vancouver Working Group and the light rail open houses.
I worked with property and business owners, along with residents, to identify mitigation proposals (air quality, noise, vibration and traffic)


I-5 Bridge
I support the replacement of the current lift bridges.
After exhausting the Federal and State funding opportunities, tolls would be used to pay off the construction portion of the bridge only. I'm for limited tolling for the cost of the bridge but not beyond.
An annual review of the debt would be posted so citizens could see the funding recovery. Once the construction debt is paid off, the tolls should be removed.
I support reducing Oregon Income Taxes by the amount of tolls paid or some portion thereof.


Light Rail
I supported a vote on light rail by the citizens within the C-Tran boundaries.
The funding plan has moved forward and there is one funding gap remaining at this time. I do not want to see bridge tolls used to pay for light rail.

There are many under answered questions, such as the mitigation measures for the impacted properties and individuals, the cost recovery through user fees, "closed" vs "open" systems that require ticket turnstiles, and the safety enforcement.


Interchanges
I support each state being responsible for the design and funding for their interchange improvements.
---