Police, Fire and Public Safety
If we are to thrive and move effectively through difficult challenges, then it's important that we have a safe and secure community. Additionally, potential employers and businesses are more likely to come to safer locations with a good quality of life.
What progress is the City making with our commitment to develop a safe and prepared community?
Good Progress in:

feeling safe
resolving livability issues
well lighted streets
quick police response goal of 5 minutes.

Some Difficulty in:

decreasing property crime
minimizing dollar value of fire loss

Serious Problems in:

decreasing violent crime
fire and medical response goal of 5 minutes
gang issues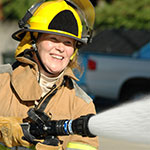 Fire and police services must be at a higher level of service. We must have adequate staffing and equipment for both fire and police now.
Our challenge is to reduce government spending while protecting vital services like public safety. This is vitally important as our community struggles with job losses and wavering economic conditions.
I am committed to public safety and to rebuilding our core values. I honor and support the work of our law enforcement, fire and emergency service workers.
Public Safety Groups - Meetings that I've attended or been involved with
Safe Communities Task Force
Shumway Neighborhood - Neighborhood Police Officer (NPO) reports and updates
Vancouver Neighborhood Alliance - Neighbors on Watch (NOW) reports and updates
Graffiti Task Force
Public Safety Projects/Activities that I've worked on
Community Emergency Response Team (CERT) Training
Vancouver Fire Department Community Academy graduate
4th Plain Corridor Sub Area Plan
Neighbors On Watch (NOW) volunteer - patrols, base, precinct tours
Fire Corps volunteer - smoke alarms and education
Police
I have worked with my Neighborhood Police Officer (NPO) on individual issues and group problems. I've been at the table helping mediate issues between neighbors and businesses, and with families. I have experience on the front line and in the backyard.
For more than three years, I served on the Safe Communities Task Force whose mission is to network with providers and community advocates as we work to strengthen our youth and reduce the affects of gangs on the community.
To keep myself educated on the important issues facing our officers in Vancouver, in Clark County and in the State Patrol, I've participated in several of the DUI night patrol rides.
Neighbors on Watch (NOW) is a volunteer citizen program and an integral part of community oriented policing. I'm a citizen volunteer for the NOW program. This program engages the citizens in a positive and effective way to support our office.
Fire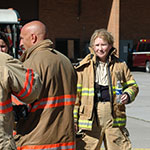 I supported the SAFER - Staffing for Adequate Fire & Emergency Response grant to fund 13 trained firefighters for the front lines for two years and reopening the Burton Fire Station, known as Fire Station 6.
Fire Station 6 should not have been closed. National standards for fire service suggest that a 4-minute response time is critical to saving lives and protecting property. The City is having a serious problem in meeting a 5-minute goal.
As a CERT volunteer, I was trained in disaster preparedness, fire suppression, basic disaster medical services, light search and rescue, and team organization. I continued with CERT and organized our neighborhood so our residents and businesses could be proactive in a community-based emergency preparedness plan. I'm now a volunteer with the Fire Corps.
Public Safety
As a neighborhood leader for over 25 years, I've been effective in leading neighborhood cleanups with a holistic partnership of code compliance, Waste Management, high school and Scout volunteers and the Vancouver Police Department.
Together we worked to remove gang graffiti, trash piles, abandoned vehicles and secure drug houses. Together we incorporate the citizens' values to strengthen our community. This experience is vital to a healthy and safe community.
---